A passing of the torch
Raf Beeren introduced to Canada as the new Managing Director Turkeys.
All local employees from both Hendrix Genetics turkeys and layers, as well as contract farms, were invited to a company meeting in the evening. Representatives from France, including the General Manager Turkeys Laurent Souti, were present as well as US and Chile sales and technical team members. It was an eventful night, with a full buffet dinner, entertainment by local celebrity Neil Aitchison and even a turkey and a flat of eggs to take home at the end of the night.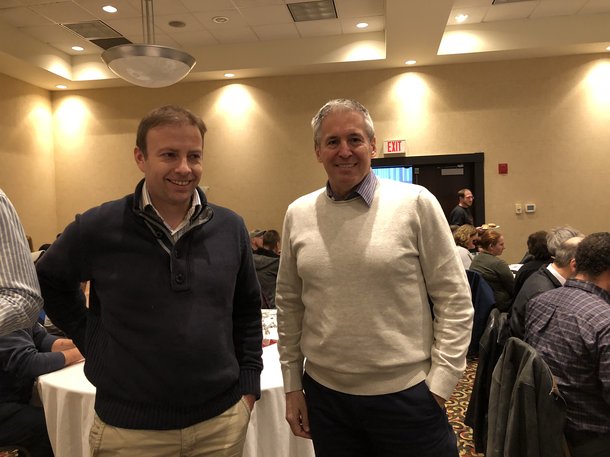 The main event of the evening was a speech by former Managing Director Turkeys Dave Libertini, now VP Americas for Hendrix Genetics. He went through the business successes and challenges of both turkeys and layers for 2017, as well as what he expects to see in 2018. He also went on to thank everyone for their role in the protein value chain and explained the importance each function has to the success of the industry. His speech concluded with the introduction of his successor Raf Beeren. Formally the Managing Director Swine, he officially took over for Dave Libertini on January 1, 2018.
2017 was one of the best years on record, so much was accomplished. The train has left the station and it has no signs of slowing down.
Mr. Beeren thanked his predecessor for all of his hard work, as well as everyone present for their efforts and commitment to the business. He also highlighted his strong ties to Canada. For a number of years, before returning to his homeland of the Netherlands, Raf and his family lived in Canada where one of his children was born. Mr. Beeren concluded his introduction by making a clear commitment to the business and to continue the work of Mr. Libertini to both grow sales while focusing on quality.
Mr. Beeren will be in France next week, where he will have a chance to introduce himself to a significant part of the business.