Hendrix Genetics congratulates Protix with a milestone in insect protein production
On June 11, Protix celebrated their ten-year anniversary and the opening of the world's largest and most advanced insect farm in the world. The opening was celebrated in the presence of some esteemed guests, including His Majesty King William-Alexander of the Netherlands and Carola Schouten, Minister of Agriculture for the Netherlands.
We have partnered with Protix on the development of insects as an efficient protein source for use in feed.
In addition to exhibiting the new facility, Protix ran a number of panel discussions on sustainability and the future of our food system. President Thijs Hendrix participated in a side panel discussion on new innovations in delivering sustainable protein, including the role of genetics.
As the world's population grows – and the demand for protein along with it – insect protein production offers huge potential. With their small size and ability to turn waste into body mass, insect protein is sustainable with a low carbon footprint.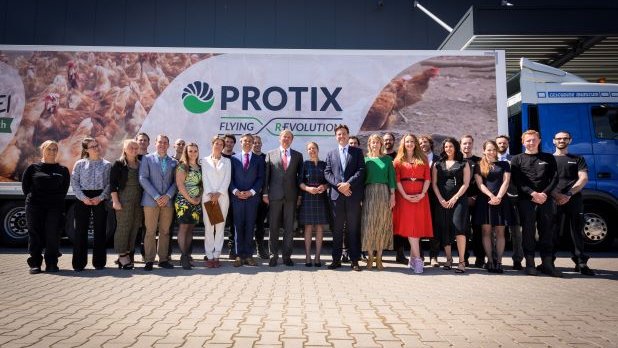 Our partnership with Protix in their breeding program is an exciting opportunity to invest in sustainability and the future of the food system. With Protix's knowledge of insect protein and our expertise in breeding technologies, the possibilities are endless to create solutions for a more sustainable food production system.
The new facility features the latest technology in biosecure processes and automation. It is a truly unique insect farm, with a highly controlled and automated environment outfitted with sensor and data systems. Kees Aarts, founder and CEO of Protix stated, "The opening of our new facility signifies a real transformation, not only for our company, but for the entire sector and markets; the transition from prototype to a mature and commercial sector."
We are proud to be a partner of Protix, and we celebrate this important milestone with them. Their new facility takes insect protein production into the next era and makes a positive impact in the sustainability of our food chain.